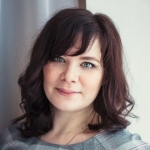 Postcards sent:
33
Postcards received:
36
Postcards in progress:
3
Stars received:
5.00
Country:
Russia
Languages:
Russian, English, Italian
Member since:
11 September 2019
Last activity:
27 September 2020
Hi! My name is Katya, I live in Kirov - old provincial town near Vyatka river.
I work as a programmer for more than 10 years and I`m absolutely in love with my job :)
I will be happy to receive a postcard relative to stamp or cityview, World Travel, Flag Of The World.
Please, write something about you or your city.. don`t send blank postcards. And no envelope please.
I learning Italian now, so if you know Italian - you can sign your postcard on Italian, it will be some practice for me.
Thank you!