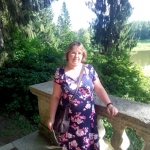 Postcards sent:
3
Postcards received:
1
Postcards in progress:
1
Stars received:
5.00
Country:
Russia
Languages:
Russian. English
Member since:
04 May 2020
Last activity:
17 August 2020
Hi! My name is Olga. I live in the North of Russia in the Murmansk region.

I like to write letters and get change in an envelope.I want to make a lot of friends all over the world. I want to get a lot of cards for my birthday - March 20, New year (January 1).

I prefer postcards with
cats (especially blue Rina Zenyuk's cats)
nature
species
lighthouse
daisies
Pin-up
Hilda
The Beatles
Bear
Harry Potter
But I will be happy to receive any postcard.
I also collect calendars and postage stamps.