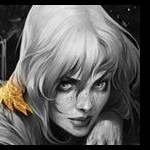 Postcards sent:
2
Postcards received:
2
Postcards in progress:
0
Stars received:
5.00
Country:
Poland
Languages:
Polish, English, Russian
Member since:
01 March 2020
Last activity:
02 August 2020
Hello!
I'm Sylwia from Poland. I work in an antique bookshop in Warsaw. I love old books and postcards!
I like art (and street art), travelling, reading, watching birds, nature.

These postcards would make me most happy:
- postсard matching the theme of the stamp
- something typical for your country/region/city (building, food, animal, artist etc.)
- women (especially: retro style, black & white photos, women reading books, women in art, wearing traditional costumes, vintage advertisments with women)
- books :) (old books, antiquariats, libraries, bookshops, reading people, writers...) [My collection:
http://www.flickr.com/photos/sylvian555/sets/72157634449592278/ ]
- birds
- squirrels
- view from a national park of your country
- beautiful landscape from your country

But any card will be most welcome :)
Thank you!