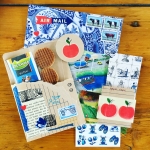 Postcards sent:
138
Postcards received:
140
Postcards in progress:
3
Stars received:
5.00
Country:
Netherlands
Languages:
Dutch, German, Englisch, French
Member since:
30 May 2019
Last activity:
30 November 2022
Hello, I'm Marloes, 45 years old, mother of two sons.
I work in a library as a children's librarian and I encourage reading in schools.
I love my job!
My hobbies are reading, crafting, journaling, making mail art, writing letters, doing Postcrossing, doing yoga, dancing salsa and running.
I love paper, stamps, letters, tea and chocolate.
I escpecially like birds on stamps, also mushrooms and flowers.
I'm happy to exchange postcards!