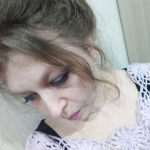 Postcards sent:
5
Postcards received:
5
Postcards in progress:
0
Stars received:
5.00
Country:
Belarus
Languages:
belarusian, russian, english
Member since:
28 August 2019
Last activity:
18 April 2020
Hello! My name is Katia.
I just live and love everything beautiful.
Now I'm trying to return to postcrossing. And I try don't think about all the sad things that life has been presenting to me lately.But it turns out badly. Postcrossing helps me.
Love tango, reading and I dream to learn how to draw illustrations for them.

I collect stamps and enjoy all your cards. But I especially like postcards with the image:

ethnic items, cultural things (clothes, accessories, houses, dance, art - I am interested in culture of all countries)
music and ethnic musical instruments (I will show these cards to my students:)
beautiful ceramics, glassware, fairies, elves, moomins, Totoro and other mythical figures
color illustrations by Minna L. Immonen, Virpi Pekkala, Екатерина Бабок, Кристина Крокус, Аннет Логинова, Ирина Зенюк.

I really like surprises and sincere impulses.
But this is not the most important thing. I just want to hear from you. And I will be very glad to you! See you.
Katia.