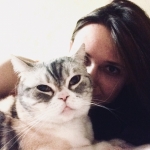 Postcards sent:
8
Postcards received:
8
Postcards in progress:
0
Stars received:
5.00
Country:
Russia
Languages:
Russian, English
Member since:
29 August 2020
Last activity:
20 October 2021
Hello! My name is Tatyana, 26 y.o. You can see my main interests in my wish list :))
I hope you choose postcards that I really like. I will be glad to receive postcards with:
- my most important collection is polar bears! eisbär!
- animals - cats, dogs, foxes, racoons, rabbits, birds & ets,
- posters and characters from the movies (especially horrors and old Universal horrors!! Dracula, Lord of the rings, Harry Potter, Marvel, Game of thrones, Star Wars (3-6 ep.), Tim Burton's movie),
- famous actors - Johnny Depp, Robert Downey Jr., Jeremy Renner & ets,
- Sailor Moon,
- art by Luis Royo & Victoria Francеs,
- illustrated cats by Irina Garmashova, Irina Zeniuk, Jetoy,
- insects, spiders, butterflies, dragonflies,
- monsters, vampires, ghosts, dragons,
- gothic, steampunk,
- gothic architecture,
- Eisbrecher, Rammstein, Blutengel, Stahlmann
- animated cartoons, old Disney
- Helloween & New Year
- corpses, death, murder, justice, criminals, prisons and the courts (because this related with my job)
- views of nature - forests, rivers, etc.
- WT, GF, FOTW, ICON

Sent ostcards without envelopes, please!

I don't like postcards with children, food, sports, religion, handmade, advertisement, selfprint, home photo or print as a card.

Thank you for your attention!