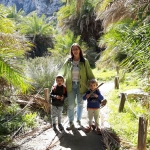 Postcards sent:
108
Postcards received:
110
Postcards in progress:
1
Stars received:
5.00
Country:
Germany
Languages:
russian, german, english
Member since:
22 January 2020
Last activity:
23 September 2022
Hello friends!

My name is Irina, I am Russian, 44 years old and I have been living in Germany. I am a mom of two 4 years old sons and spend now most of the time with them. In Russia I was a German teacher, in Germany I´m working with my husband, who is a biologist and a gardener. I like the life on the countryside, reading, classical concerts, watching figure skating and gymnastics, ballet.

I like the most cards I receive, but you make me a great pleasure if you can send a card about:

- Botanical cards (drawn), flowers (photo or drawn)
- Irises (flowers)
- Greenhouses, winter gardens, garden tools, people working in the garden, indoor plants
- Months cards, four seasons on one card, season greetings
- Edition Tausendschön (flowers, animals)
- Animals, birds
- Multiview cards of nature and/or animals in your country/region
- Art nouveau art deco
- Wolves
- Folk arts and national costumes
- Fairy tales
- Musical instruments
- Greetings From by Postallove - I have: Canada, France, Belarus, Finland, Ireland, Japan, Italy, Croatia, United Kingdom, Mexico, China, India, Sweden, Korea, Greece, Montenegro, Malaysia, Australia, the Netherlands, Albania.
- Если Вы посткроссер из России, буду очень рада получить открытку, связанную с жизнью или творчеством А. С. Пушкина, с видом озера Байкал или города Иркутска, иллюстрации Н.М. Кочергина к сказкам. (Или любую другую, конечно же)

Thank you in advance.

Happy Postcrossing!