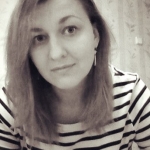 Postcards sent:
41
Postcards received:
38
Postcards in progress:
1
Stars received:
5.00
Country:
Russia
Languages:
Russian, English
Member since:
27 December 2019
Last activity:
19 July 2021
Hi! My name is Julia. I'm 31.
My main card collection is cards with photos of tea (without sweets, I hate them on cards, I love only honey).
But if you don't have any cards with tea, here are some more topics i like: (please, only cards of standard size 10*15): !Please, no envelopes, no used stamps!!! Just a beautiful card and a valid Europa stamp/s on it!!
- Maps of your country or city/town
-elfs, mermaids, fairies and other fantasy creatures (only beautiful)
- dragons (realistic paintings)
- flowers ( in their nature invirinment, not torn, not bouquets, only photos!)!
- cats (photos or realistically painted)
- Northern nature (only from your country)
- sea life (fish, turtles etc) Please, realistically painted or photos. Only in their natural invitronmeant.