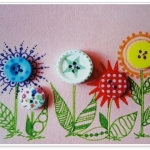 Postcards sent:
15
Postcards received:
11
Postcards in progress:
0
Stars received:
5.00
Country:
Germany
Languages:
great German, simple English, almost forgotten school Russian :)
Member since:
10 February 2022
Last activity:
20 June 2022
Hello,
my name is Chris and I live in a small old town in Central Germany. It's a beautiful area, but my favorite place is my little garden behind the house.

So I would love postcards with flowers, gardens, parks.... Surprise me!

AND: I'm a big fan of collecting stamps. I´m a thematic collector and prefer in particular:
ANIMALS / FAUNA. I also love all stamps of New Lunar Year.

And now: I´m waiting for your postcard. Thanks in advance.