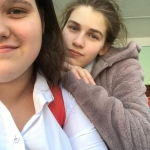 Postcards sent:
3
Postcards received:
3
Postcards in progress:
0
Stars received:
5.00
Country:
Russia
Languages:
Russian, English, Ukrainian
Member since:
12 April 2021
Last activity:
31 August 2022
Hello, my name is Anastasia, 18 y.o.
I live in Russia, the city of Kazan. Our city is in the top five largest cities in Russia, is the capital of Tatarstan and has a UNESCO heritage. I study at school and do not work. I'm a very creative person, I fond of diamond painting, dance, mail art and postcrossing. I like it when the postcard is beautifully designed, decorated with tape and stickers. I love to receive postcards with drawing and art stamps. I collect postcard collections such as:

- Animal (in particular rabbits, squirrels, cavy, cats)
- Birds (in particular robin, seagulls, pigeons, puffins, lovebirds)
- Watercolor
- Maxicard (clean only)
- 3D postcards (stereo-vario)
- Illustrations stamps
- Mailbox
- Postcards of non-standard shapes and sizes
- Postcrosser meetings
- Lilac and lupins
- Food and sweets
- Recipes
- Exotic fruits and berries
- Drinks and cocktails
- Cafe and showcases
- Female image
- Needlework
- Rain
- Handmade postcards, with your illustration or self-print
- Lou Paper
- Paddington
-Gravity Falls
- Reproductions of paintings by Frida Kahlo
- Cute postcards
- Space
- Covid-19

Illustration:
- Ellen Jareckie
- Anastasia Morevaya
- Beatrice Potter
- Susan Veller
- Olya Luki
- Maria Mishkareva
- Anna Petunova
- Anna Speshilova
- Elena Platonycheva
- Olga Simonova
- Ema Malyauka
- Caca
- Old ladies and garden Inge Look

Instagram: @mayaefff

HAPPY POSTCROSSING!!!