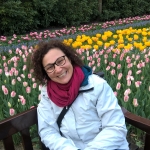 Postcards sent:
6
Postcards received:
4
Postcards in progress:
1
Stars received:
5.00
Country:
Italy
Languages:
Italian, English, French, Spanish
Member since:
18 June 2022
Last activity:
10 September 2022
Hello everybody. I'm Susanna.
I love to travel, to meet people, to learn. Actually, I've started to exchange postcards to travel all around the world.
I like literature, languages, geography, history, theatre, cinema, nature, animals, especially felines, music and trains.
I do not have special wishes, I would love whatever you will send me.