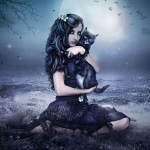 Postcards sent:
76
Postcards received:
82
Postcards in progress:
0
Stars received:
5.00
Country:
Finland
Languages:
Finnish, English, Swedish and a little German, Russian, French and Spanish
Member since:
11 July 2019
Last activity:
06 June 2021
Hei! I'm a girl from Finland and I work in the tourism industry. I share my life with my boyfriend and our black cat. I love collecting stamps and postcards. Also music is very important to me - I enjoy singing and going to concerts and music festivals. I especially like metal music and ebm/industrial/dark electro/darkwave. My other passions are watching movies and TV series, photography and traveling. My goal is to travel to one new country every year.
___________________________________________________________
I'm happy to receive any postcard with Europa (C.E.P.T.) stamp but here are some ideas for postcards:
❤ postсard with matching stamp
❤ maxicard
❤ The following series cards from your place: Greetings from... / Flags of the World / Icons of Countries / WordCloud / United in Diversity (
Here
is a list of my received and missing cards)
❤ metal bands (also Finnish metal bands)
❤ ebm/industrial/dark electro/darkwave bands
❤ metal and gothic music festivals
❤ beautiful fantasy / horror paintings and illustrations
❤ light in the dark
❤ cats by Irina Garmashova and Irina Zeniuk
❤ art by Leonid Afremov
and my favorite colors are magenta, purple and blue.
Thank you for your time! :)